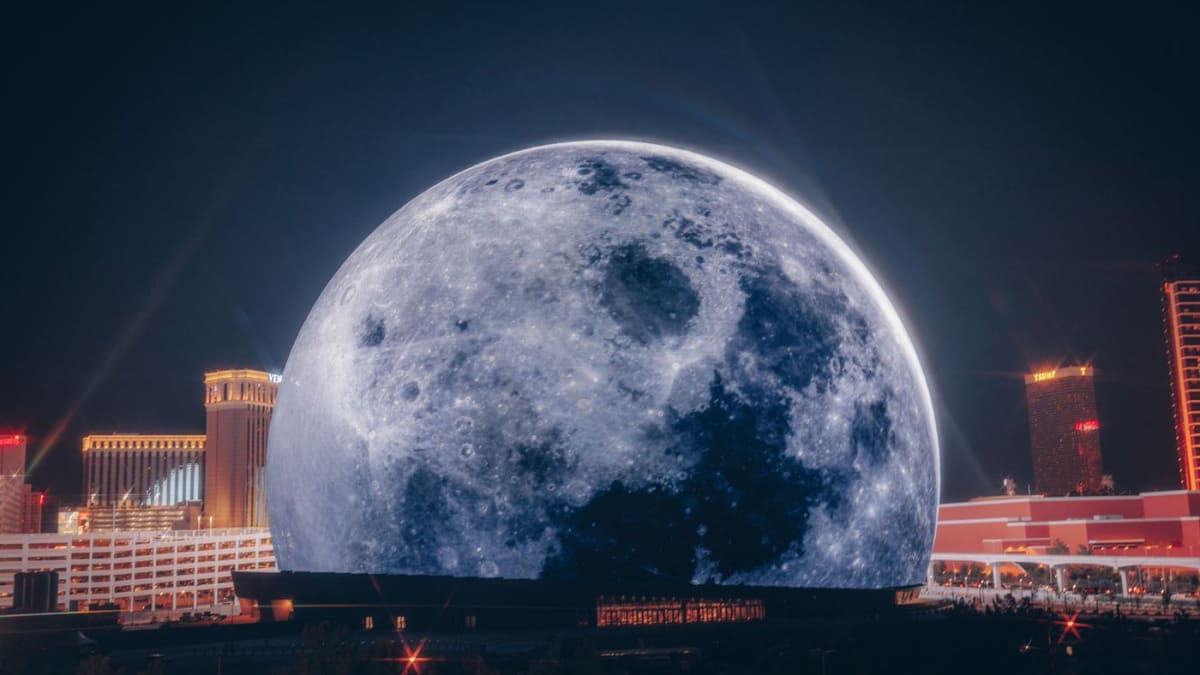 Neighbors be damned, the record-breaking Sphere has lit up Las Vegas for the first of many luminous nights under the Sin City sky.
At 366 feet tall and 516 feet wide, the towering orb is not only the world's biggest spherical structure, but also the largest LED screen, according to a press release issued by Sphere Entertainment Co. The exterior of Sphere consists of approximately 1.2 million hockey puck-shaped LEDs, each of which contains 48 individual diodes capable of emitting 256 million different colors. And it only cost $2.3 billion.
In celebration of the Fourth of July, Sphere was finally illuminated for the first time after its long and tortuous construction phase. The show projected an array of visuals on the 580,000-square-foot LED canvas, like intricate lunar surfaces and photorealistic underwater scenes.
View the original article to see embedded media.
Designed by the prestigious global architecture firm Populous, Sphere, which has a capacity of roughly 18,000 people, will host concerts, film viewings and sporting events.
We can't help but salivate over the thought of a rave beneath the venue's gargantuan 16K LED screen, which wraps around a large section of the audience and has the capability to project immersive visuals.
In a city known more for its indulgent hedonism than its sensory overload, Sphere's proprietors believe it has the ability to change the fabric of Las Vegas tourism.
"The Exosphere is more than a screen or a billboard—it is living architecture, and unlike anything that exists anywhere in the world," said Guy Barnett, SVP Brand Strategy and Creative Development. "Last night's show provided a glimpse of the Exosphere's captivating power, and the possibilities for artists, partners, and brands to create compelling and impactful stories to connect with audiences in new ways."
Sphere is scheduled to officially open on September 29th with the first concert of a series featuring legendary rock band U2. You can find out more here.