A new chapter of Summer Camp Music Festival is afoot, according to Ian Goldberg, the event's founder and producer.
Goldberg today released a statement announcing an impending hiatus for the festival, which takes place each Memorial Day Weekend in Chillicothe, Illinois. Summer Camp Music Festival "as we've all come to know it" will discontinue, he says, following this year's gathering. Fans can still look forward to a "redefined" camping and music experience at Three Sisters Park starting in 2024.
Goldberg cited logistical challenges and competition from large-scale corporate event producers as reasons behind the decision.
"The challenges of throwing a mid size independent music festival in the face of the big corporate festivals as competition both for fans and for artists, along with the logistical challenges (especially post pandemic) of throwing an event of this size in a small market in Central Illinois have had us reevaluating what we do for awhile now," Goldberg explained. "But reimagining Summer Camp had its own challenges, we could not figure how to scale back the event in a way that would feel true to everything Summer Camp Music Festival has come to be."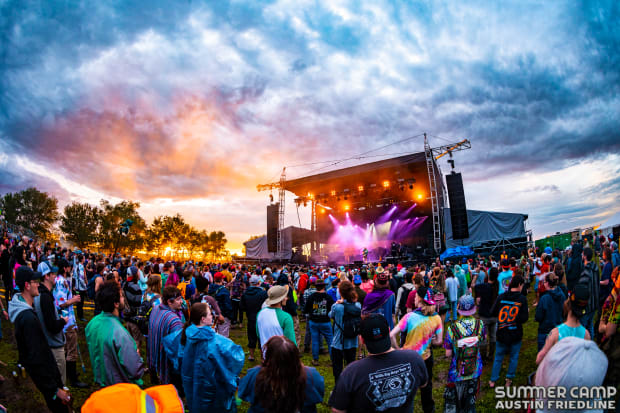 Goldberg says this year's Summer Camp, which kicks off May 26th, is "going to be insanely meaningful" for attendees, who have formed a tight-knit community since the festival's inception in 2001. The event will feature performances by Excision, Rusko, Green Velvet and many more.
"Cutting pieces of it felt like leaving our children behind," Goldberg continued. "So we decided it was time to put the Summer Camp Music Festival to rest. For now. We will be announcing more details on the new event after this year's festival, but it will likely include certain elements that long-time SCampers will find very familiar."
Read the full statement below.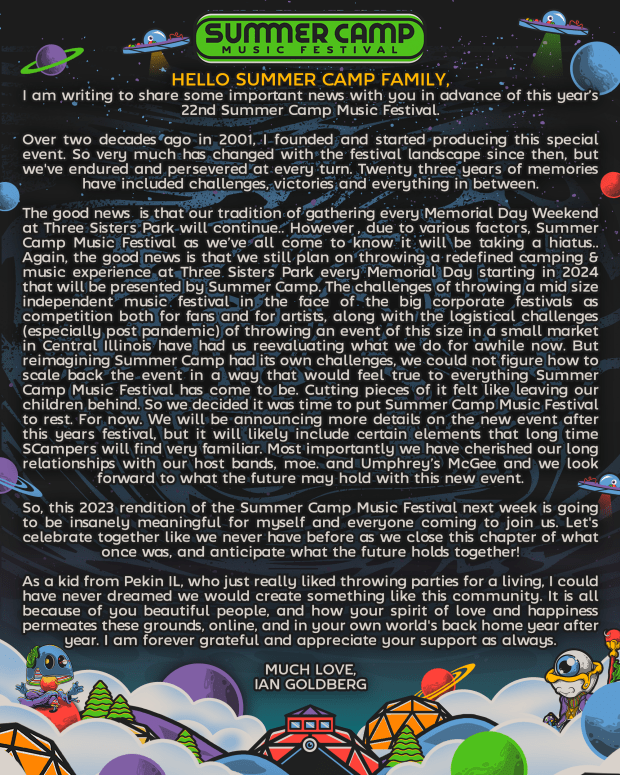 FOLLOW SUMMER CAMP MUSIC FESTIVAL:
Website: summercampfestival.com
Facebook: facebook.com/summercampmusicfestival
Twitter: twitter.com/summercampfest
Instagram: instagram.com/summercampfest
Spotify: spoti.fi/372J3kQ