You can't muzzle Station Underground.
The collective has furiously risen from the L.A. underground, starting out by throwing clandestine warehouse raves before growing into a national promotion brand with events all over the country. Their next one is tomorrow night in Charlotte, but we're getting ahead of ourselves.
Station Underground's latest masterstroke comes in the form of a show-stopping remix bundle for "Microphone," a freeform bass anthem from surging producer BRAINWAVEZ. Spanning seven tracks, it's an ideal encapsulation of the sound they're pushing: nasty, non-formulaic electronic music borne from community.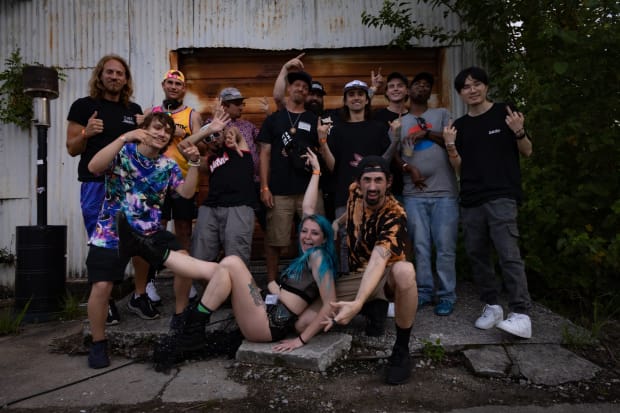 Ozztin kicks things off by way of a wonky trap remix, where filthy saws crawl through the mix like spiders in the brain. D0min0 follows with his own heavy-hitting rework before SQUEDA stomps in with a squelchy hybrid trap rework. KRVKEN then comes in hot, dropping a no-holds-barred drum & bass rendition.
One of the EP's surefire highlights comes from DBLCRWN. His genre-defiant remix starts with a quirky breakbeat drop before slithering into a wild trap segment where vocoded vocal chops slice through a thick low end. GREM then follows with a pulverizing riddim remix before Kinetick brings it all home with an inventive house flip.
All in all, the remixes signal a bright future for Station Underground, a powerhouse tastemaker in the making. They're now poised to celebrate with an electric "Station Sessions" release party in Charlotte tomorrow, August 5th from 8pm to 2am.
Take a listen to the full "Microphone" remix package below.
View the original article to see embedded media.
Follow Station Underground:
Instagram: instagram.com/Stationunderground
Facebook: facebook.com/STATIONUDG
Twitter: twitter.com/StationUDG
YouTube: smarturl.it/station_youtube
Web: stationunderground.com
Twitch: twitch.tv/stationunderground
TikTok: tiktok.com/@stationudg