Mate Maker, a brand of hard kombucha founded by the superstar dance music trio RÜFÜS DU SOL, has launched in the United States.
After launching in Australia late last year, Mate Maker is now available stateside in Southern California, a region aligning with the country's breezy, beach-centric culture. It's also an area that RÜFÜS DU SOL and Mate Maker's founders have called home for nearly five years.
"We've been touring here as a group consistently for almost a decade now, and have been lucky enough to have been embraced by fans and to have been able to build a community around what we do here," said Danny Robson, RÜFÜS DU SOL's manager and Mate Maker co-founder, in a press release shared with EDM.com. "The U.S. is our second home because of the support of that community. We're thrilled to be able to bring this company and everything it stands for to the states, where the idea for it was first hatched on a highway in California."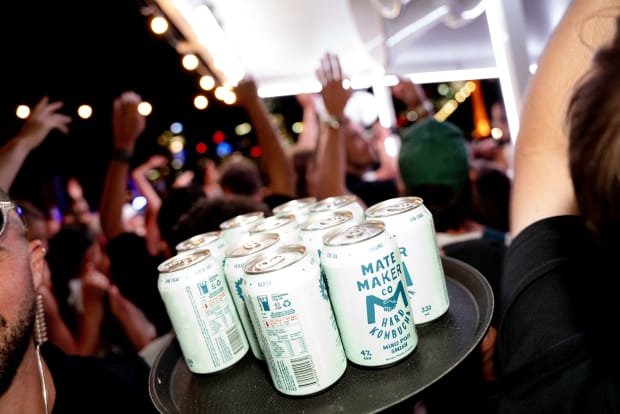 Mate Maker's hard kombucha is gluten-free and vegan, and comes in a three flavors that are ideal for both music festivals and beaches: "Mango Peach Smash," "Blood Orange POG" and "Pineapple Sundream." RÜFÜS DU SOL debuted the lattermost flavor in May at their curated Sundream Festival in Mexico, where Elon Musk happened to be spotted raving.
Additionally, the drinks are crafted using only real fruit, organic green tea and simple ingredients you can actually pronounce. There are no artificial sweeteners, colors or hidden ingredients.
"Having a drink with friends at a gig, or at the beach, was a big part of our lives growing up," added Jon George of RÜFÜS DU SOL. "As we've become more mindful about what we drink and how we operate on tour, we wanted to create Mate Maker to give people the chance to drink something they know is made from simple quality ingredients."
To learn more about Mate Maker's drinks, visit the brand's website.