Headbangers everywhere are counting down the days until the return of Lost Lands, which will resurrect in September 2023 for arguably its biggest festival thus far.
Beloved amongst the stateside electronic music community for its heavy-hitting bass music and prehistoric theme, Excision's flagship festival returns to Legend Valley September 22-24. Once again, Lost Lands is coming in hot with a colossal lineup as well as number of major updates and improvements that were implemented after receiving community feedback.
With the festival's 6th edition approaching, EDM.com has put together a detailed guide with everything you need to know in order to make the most out of your Lost Lands experience this year.
Lost Lands 2023 Lineup
The lineup at Lost Lands this year is as massive as ever, with a slew of unexpected B2Bs and sets from some of the scene's most celebrated artists. Excision will once again perform three sets: a two-hour solo performance, a B2B with Dion Timmer and a special "Detox" B2B with Wakaan label boss Liquid Stranger.
Additional Lost Lands 2023 performers include Boombox Cartel, Flux Pavilion, ATLiens, SVDDEN DEATH, Ganja White Night, JVNA, Barely Alive, Kill The Noise and EDM.com Class of 2022 trailblazers Akeos and Ray Volpe, among others. Many artists outside the traditional dubstep umbrella will be throwing down as well, like ACRAZE, Sub Focus, Ninajirachi, HALIENE, Wax Motif, Macky Gee and Codeko.
Check out the full Lost Lands 2023 lineup below.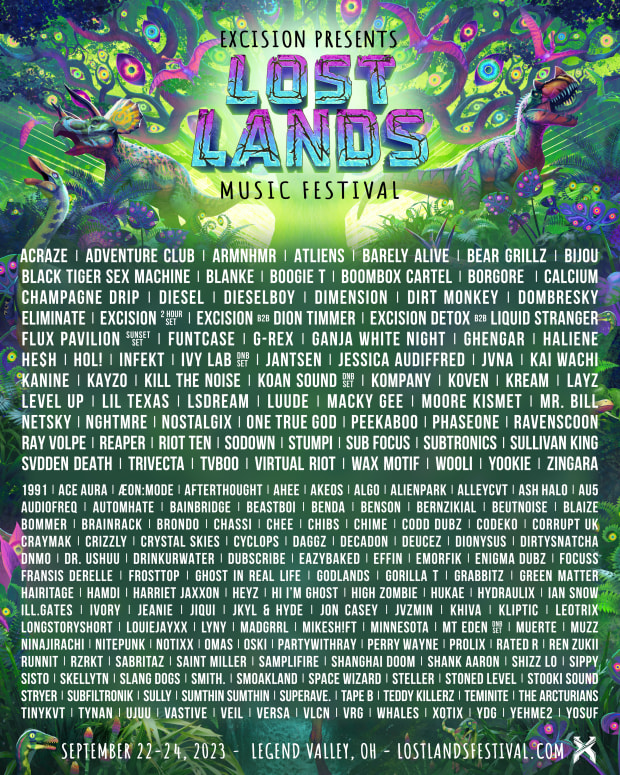 Lost Lands Tickets
General Admission tickets for Lost Lands are currently available at $370 and include one pair of high-fidelity earplugs with a branded metal carrying case. After initially selling out, a limited supply of VIP tickets are now available again, but are expected to sell out quickly, along with a number of popular camping options.
Early entry and pre-party add-ons are also available, coming at $85, $100 and $120 for Thursday, Wednesday, and Tuesday respectively.
Tickets for Lost Lands 2023 are on sale here.
Lost Lands Accommodations
Camping
The majority of Lost Lands' attendees each year opt for camping as their accommodation option, and the festival offers a wide range of camping and glamping options. As a general rule of thumb, camping tickets have to be purchased separately from admission tickets and they're sold per campsite—not per person.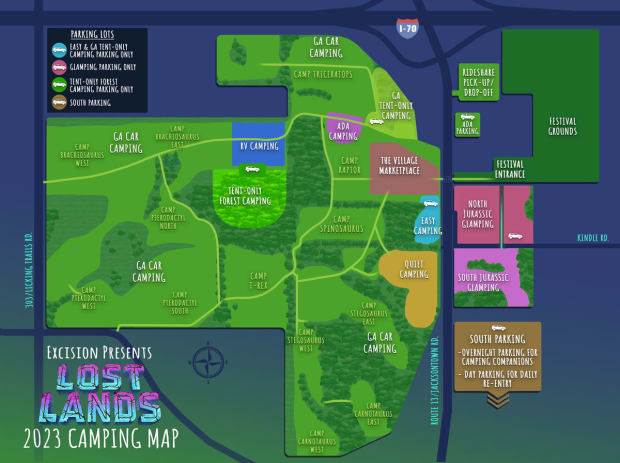 From car, RV and tent-only forest camping to quiet car camping, Lost Lands offers an abundance of options to accommodate each headbanger's needs.
Glamping is back at this year's Lost Lands as well, now doubled in size. Passes for both South Jurassic Glamping and North Jurassic Glamping were sold out, but additional, limited spots have now just opened up, and are available for purchase here. In case camping options sell out again, make sure to check out Lost Lands' ticket exchange for another chance at passes as the festival approaches.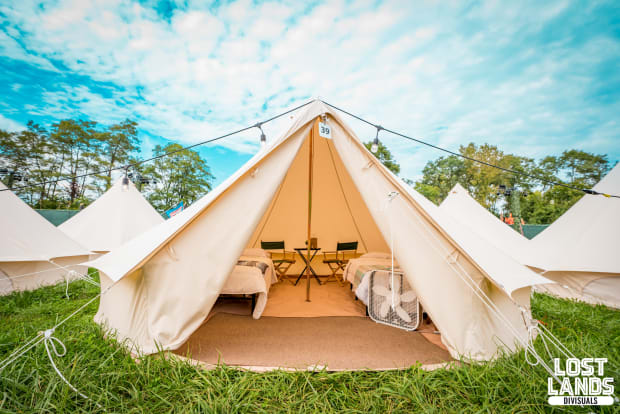 Visit Lost Lands' website for more information on camping options and various payment plans. You can also can purchase parking passes for non-camping vehicles.
Hotels and Shuttles
Legend Valley is an approximate 45-minute drive from Columbus, where ticket-holders can find lots of accommodation options. Headbangers staying in Columbus who don't want to drive to and from Legend Valley every day can enjoy the Dino Express air-conditioned charter buses, which will be carrying out unlimited Lost Lands day trips departing at convenient times.
Various Headbanger Hotel Packages are also available, with Lost Lands fans being able to choose between 5 different hotels in downtown Columbus, and purchase an all-encompassing package that also includes their group's festival admission, daily rides to and from the festival grounds, complimentary breakfast, and more.
You can find more information on hotels and shuttles, as well as book your Dino Express ticket, here.
Lost Lands Packing Essentials and Prohibited Items
Whether you're camping or not, you need to make sure you're bringing all the essentials and know about which items are not allowed within Lost Lands' camping and festival grounds.
As you're getting ready to pack for three days and nights of raving in Legend Valley, take a look at Lost Lands' non-exhaustive camping essentials list, as well as the list of prohibited items.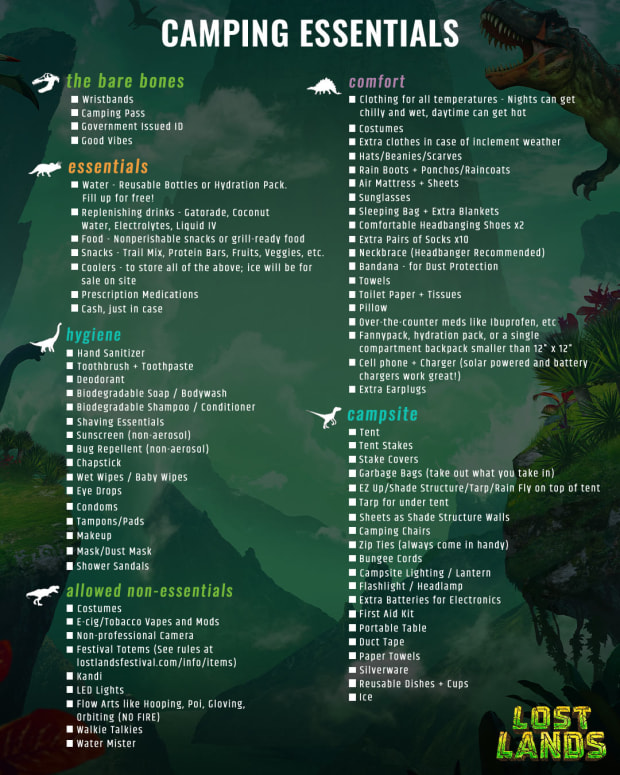 Items Prohibited from Campgrounds
NO Illegal substances
NO Liquor. Only 1 case of beer or 1 case of hard seltzer or 1 box of wine permitted per person. Take a look at Lost Lands' Campground Alcohol Policy for more info.
NO Unauthorized vending or selling of any products
NO Glass of any kind except handheld mirrors under 12″x12″. No standup mirrors.
NO Glass vape juice bottles, plastic only.
NO Glass lighting. Plastic tipped Christmas-style lights OK.
NO Large sound systems (if neighbors ask you to turn it down please respect their wishes)
NO Weapons of any kind
NO Knives (including cooking and steak knives)
NO Pepper Spray or Mace
NO Generators (RV onboard generators OK, no external)
NO Selfie Sticks
NO Tanks of compressed air, helium, nitrous, etc.
NO Aerosol products/cans except Sunscreen and Bug Spray
NO Bonfires
NO Fireworks or any kind of explosives
NO full-sized propane grill, charcoal, butane or fires of any kind (small propane grill ok)
NO Tiki Torches
NO Sky Lanterns
NO Animals of any kind (for more info see lostlandsfestival.com/ada)
NO Laser Pointers
NO Drones
NO Golf carts, dune buggies, segways, off-road motorcycles
NO Large metal key chains
NO Spray paint
NO Paint markers
NO Stickers
NO Flyers
NO Bicycles, Strollers, Skateboards or OneWheels
NO Logo-wrapped canopy tents
NO Milk Crates
Items Prohibited from Festival Grounds (Stages Area)
NO Illegal substances
NO Alcohol may be brought into the festival grounds
NO Open containers (empty reusable water bottles & empty Camelbaks OKAY)
NO Glass of any kind
NO Weapons
NO Knives
NO Pepper Spray or Mace
NO Tanks of compressed air, helium, nitrous, etc.
NO Aerosol products/cans except Sunscreen and Bug Spray
NO Fireworks or any kind of explosives
NO Open Flames or Charcoal Grill
NO Tiki Torches
NO Sky Lanterns
NO Animals of any kind (for more info see lostlandsfestival.com/ada)
NO Professional cameras/GoPro attachments
NO Selfie Sticks
NO Tripods
NO Laser Pointers
NO Drones
NO Large speaker systems
NO Frozen water bottles
NO Excessively large/long metal key chains
NO Large purses or bags (Max 12″×12″)
NO Stickers
NO Flyers
NO Beach Balls
NO Markers, pens, spray paint
NO Paint markers
NO Strollers/Skateboards/bicycles
NO Folding chairs and/or camping chairs
Lost Lands Parking
Lost Lands offers various types of parking options, suited for multiple different parties and accommodation arrangements.
If you're planning to park in the lots adjacent to the Tent-Only camping lots, it's important to note that you will need to purchase a separate parking pass specifically for your designated campground. However, if you hold a Jurassic Glamping Pass, you will receive a complimentary parking pass for the Glamping area.
For those attending the festival without a camping pass, there is the option to purchase the South Lot Weekend Parking pass, a convenient parking solution. Find out more here.
Follow Lost Lands:
Website: lostlandsfestival.com
Facebook: facebook.com/LostLandsMusicFestival
Twitter: twitter.com/lost_lands
Instagram: instagram.com/lostlandsfestival