ILLENIUM is poised to turn Colorado's music scene on its head with a record-breaking concert.
The Grammy-nominated artist's upcoming show in Denver is the largest EDM event to take place in Colorado's history, according to a press release shared with EDM.com.
Fans can expect surprise guest performances and an eye-popping barrage of lasers at the concert, which is scheduled for June 17th at Empower Field at Mile High, the home of the NFL's Denver Broncos. We're told the event will feature "the biggest deployment of LED panels to Colorado."
ILLENIUM, who is based in Denver, is also the first local electronic artist to headline the stadium, which can accommodate up to 84,000 people. In comparison, Colorado's iconic Red Rocks Amphitheatre has a capacity of roughly 9,500.
Taking his beloved "Trilogy" concept to new heights, ILLENIUM will perform three unique sets throughout the night. He debuted "Trilogy" back in July 2021, taking over another NFL arena, the Las Vegas Raiders' Allegiant Stadium.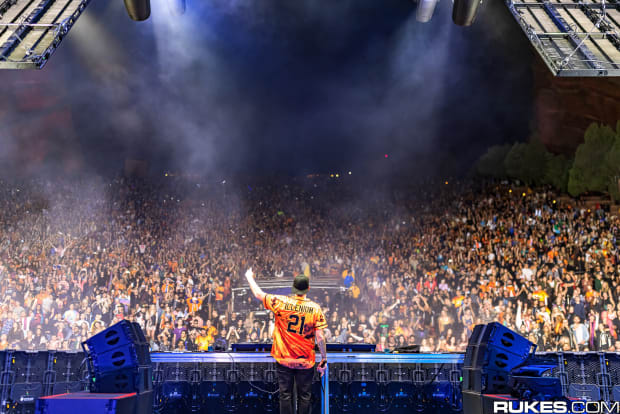 We recently caught up with ILLENIUM to discuss his partnership with End Overdose, one of EDM.com's best industry leaders of 2022. Throughout his current tour, the nonprofit has been educating fans on how to spot signs of an overdose and administer Naloxone, a medication that rapidly reverses opioid overdoses.
"Coming out of that, being at such a bottom… I was so powerless at that point that I was willing to pretty much do whatever I could do," ILLENIUM said of his 2012 heroin overdose. "Spend my time with whoever I could. I didn't want to lose my family. I wanted to love myself eventually. I wanted to care. Music did that for me massively. That's why I started making music. That's why I got so obsessed with electronic music."
Tickets for ILLENIUM's Empower Field at Mile High show are on sale now.
Follow ILLENIUM:
Facebook: facebook.com/ILLENIUM
Twitter: twitter.com/ILLENIUMMUSIC
Instagram: instagram.com/illeniummusic
Spotify: spoti.fi/2XO5NxG