David Guetta is literally putting the "house" in house music, spinning his way into Miami's luxury real estate market after purchasing a lavish waterfront mansion.
The terms of the final sale have not been made public, but the property's page on Zillow last listed it at a cool $69 million. We've opted not to include a link to the listing for the sake of Guetta's privacy.
Located in a secluded enclave known as "Billionaire's Bunker," the spectacular, 15,578-square-foot home has 12 bedrooms and 16 bathrooms. It sits on 1.23 acres in a guard-gated village with its own 18-hole golf course and country club.
The dance music superstar purchased his new digs from famed Miami Beach developer Todd Michael Glaser and his partners, The Real Deal reports. The property reportedly sold for $23.8 million in 2021 before Glaser and his team demolished the existing home and started construction on a new one.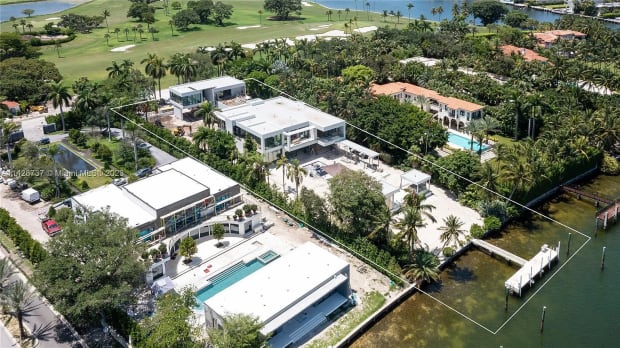 Two summers ago, Guetta spun his catalog of dance hits into a massive deal with Warner Music, who acquired the rights for a figure north of $100 million. The music giant nabbed Guetta's worldwide catalog from the last two decades and inked a new pact for future recordings at the time.
He joins quite an inner circle on Indian Creek Island Drive. Members of the neighborhood's upper crust include NFL legend Tom Brady, billionaire hedge fund manager Eddie Lampert and Hotels.com co-founder Bob Diener. Guetta's home is also next-door to Ivanka Trump and Jared Kushner's property, per The Real Deal.