The long-awaited return of Germany's Blacklist Festival comes with the promise of much more than dark, obsidian bass music.
Returning on October 7th, the beloved bass music festival is the brainchild of the team behind Cologne's iconic Bootshaus club. That venue has long served as a seedbed for the country's thriving electronic music culture, and Blacklist has blossomed into one of its tallest trees.
Blacklist in 2015 debuted at Bootshaus as a renegade party before quickly emerging as a fan-favorite among Germany's electronic dance music faithful. Its proprietors then began to organize monthly branded events at the club, establishing a haven for fans of trap, dubstep and drum & bass.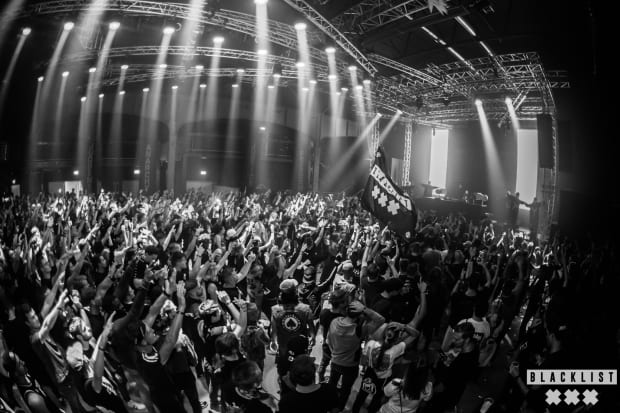 The Blacklist brand ultimately grew into a powerhouse, landing high-profile stage takeovers at renowned festivals such as Electric Love and Parookaville, among many others. The success of those events ultimately led to the inception of the independent Blacklist Festival in 2019, hosting roughly 7,000 and becoming the largest indoor festival in Germany.
The festival is now heading back to Turbinenhalle, a music and cultural venue on Mülheimerstraße in Oberhausen, with a monster lineup in tow. Fans should ready their neck-braces for the heavy-hitting sounds of Borgore, Zomboy, Sullivan King, Hedex, Holy Goof and many more. They're poised to throw down across five stages through the wee hours of the morning.
Tickets to Blacklist Festival 2023 start at €60 plus fees. You can find out more and purchase passes here.