Vegas has landed a hole-in-one with Swingers Crazy Golf, an adults-only miniature golf course coming to the Mandalay Bay Resort and Casino.
Featuring five courses, the 21-and-up "crazy golf" experience will take over 40,000 square feet of space inside the resort, Swingers recently announced.
There won't be any shushing here as live DJs spin dance music throughout. And since liquid courage is par for the course in Vegas, caddies will deliver themed cocktails to players as well as bites from Vegas street-food vendors.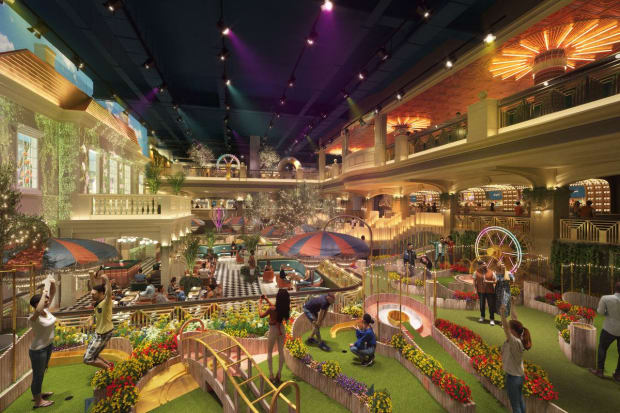 Swingers recently raised $52 million to fund an expansion and open the new Vegas course, which is expected to debut in the spring of 2024. Its proprietors already own and operate locations in London, New York and Washington D.C. after launching in East London in 2014 as a humble pop-up.
"Our journey to becoming a global brand in some ways feels meteoric, until you consider the ten years that it has taken to get here!" said Matt Grech-Smith, Swingers co-founder and CEO. "We never anticipated as we opened our pop-up in a London warehouse in 2014, that ten years later we would be opening in Las Vegas—it has been an incredible journey."
Swingers Crazy Golf is also teeing up a new location—its first franchise—in Bluewaters Island, Dubai next spring, the company said in a news release. They are projecting a $60 million boon this year and expect to reach at least 15 locations by 2026, forecasting $150 million in annual revenue.