Bass Coast, one of Canada's most beloved electronic music festivals, is a little over a month away.
The innovative music and arts festival has built a solid reputation for its avant-garde stage design and musical curation. This year, Bass Coast is celebrating its 15th festival with a gigantic lineup of over 150 artists from a wide variety of genres and sounds.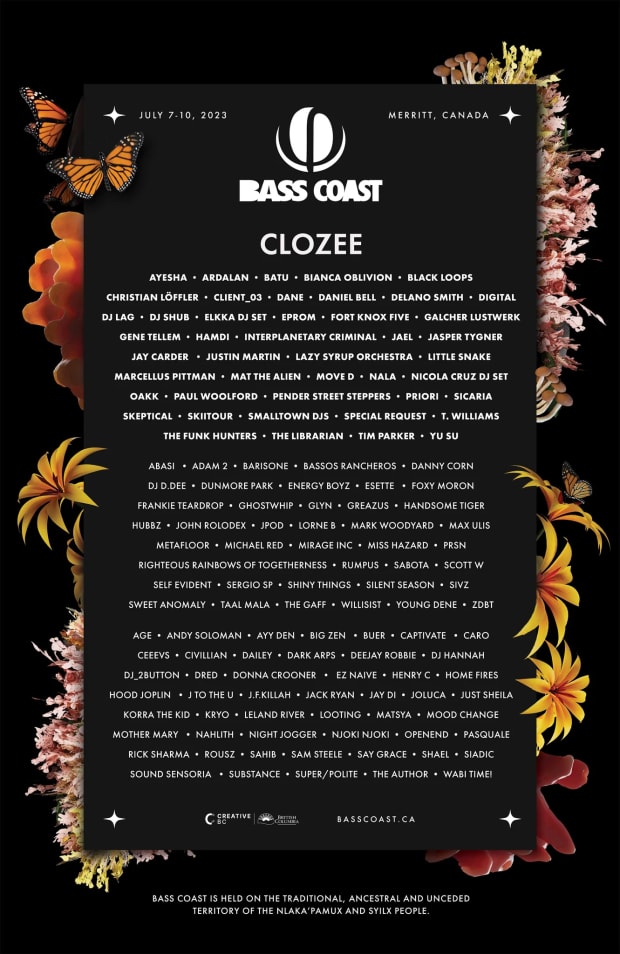 "This is a dream lineup for both DJs and dancers," said Bass Coast co-founder and Music Director Andrea Graham in a statement. "We're thrilled to be commemorating our 15th edition with world-class musicians representing the current state of cutting-edge electronic music."
Ahead of the forward-thinking festival's return from July 7-10, we've highlighted nine performers whose sets should not be missed.
Jasper Tygner
With influences from U.K. garage, jungle, jazz and many more styles, producer and instrumentalist Jasper Tygner brings a tasteful and intricate take on the house music genre. Lacing his groovy productions with soft synths and organic percussion, Tygner recently released his fourth EP in three years with Real Time, and is seemingly only getting started.
OAKK
With performances at a wide range of renowned festivals, as well as an expansive catalog of mesmerizing music, OAKK is one of the finest additions to the festival's lineup. The rising artist's sound is ever-changing, combining minimalistic melodies and ambiances with playful, trap-flavored percussion.
Rumpus
An award-winning DJ and producer, Rumpus has crafted a unique live show experience that incorporates live drumming on top of masterful DJing. Boasting a dancefloor-ready sound that draws influence from tech and bass house, Rumpus is an act that shouldn't be missed at Bass Coast.
Lazy Syrup Orchestra
Masterfully bringing together live and electronic sounds, acclaimed group Lazy Syrup Orchestra will surely enchant Bass Coast's crowd with their infectious music and charismatic presence on stage. Among a lineup comprising mostly DJs, the group's live performance will undoubtedly provide attendees with a unique and memorable experience.
CloZee
Bass Coast's grand headliner, CloZee is bound to put on a show of epic proportions for the festival's loyal crowd. One of the electronic scene's foremost female innovators, the influential French producer has won the hearts of bass music enthusiasts with her spiritual and dreamlike sound while collaborating with the likes of GRiZ, Emancipator, Ganja White Knight and many more.
Sivz
Blending catchy lyricism with irresistible tech house grooves, Sivz is one of the most exciting emerging artists on the festival's lineup. She has received support from the likes of Chris Lake, CID, Claptone, Low Steppa and Don Diablo and has become a fan-favorite among Canada's house music community. Expect a fiery performance at Bass Coast.
JAEL
Singer-songwriter, DJ and producer JAEL is a Moluccan artist from the Netherlands who has cultivated a unique fanbase with his smooth productions and heavenly voice. Part of the tastemaker label and collective Soulection, he seamlessly blends soulful R&B with otherworldly future beats.
Check out the full lineup for Bass Coast 2023 below. Passes are sold out at the time of writing but if weren't able to secure your pass on time, a ticketing exchange can be found here.
FOLLOW BASS COAST FESTIVAL:
Website: basscoast.ca
Facebook: facebook.com/BassCoastFestival
Twitter: twitter.com/basscoastfest
Instagram: instagram.com/basscoastfest